10 products
Silva Field Compass 36989-9005Ms
SCFIELD
Regular price
$39.99
Save $-39.99
/
---
Probably the world's best selling compass. Fantastically simple to use and a perfect compass for land navigation. Soft, easy-grip compass housing in Dryflex™. Map measuring scales in millimetres, 1:50.000 and 1:25.000.
Features
Sapphire jewel bearing for friction free movement of the compass needle
Durable hot-stamping of scales/graduations
Compass housing made from
Dryflex™ Rounded base plate
Patented red/black orienting lines inside the compass housing
Map measuring scales: mm, 1:50k and 1:25k
Declination scale inside the capsule
Garmin Etrex 32X Handheld GPS With Nz Topo Active Maps
010-02257-02
Regular price
$499.99
Save $-499.99
/
---
eTrex 32x Rugged Handheld GPS with Compass and Barometric Altimeter!

Explore Confidently with the Reliable Handheld GPS

2.2" sunlight-readable color display with 240 x 320 display pixels for improved readability
Preloaded with TopoActive maps with routable roads and trails for cycling and hiking
Support for GPS and GLONASS satellite systems allows for tracking in more challenging environments than GPS alone
8 GB of internal memory for map downloads plus a microSD card slot
eTrex 32x adds a 3-axis compass and barometric altimeter
Battery life: up to 25 hours in GPS mode with 2 AA batteries

Specifications -

Physical dimensions: 2.1" x 4.0" x 1.3" (5.4 x 10.3 x 3.3 cm)
Display size: 1.4" x 1.7" (3.5 x 4.4 cm); 2.2" diag (5.6 cm)
Display resolution: 240 x 320 pixels
Display type: 2.2" transflective 65K color TFT
Weight: 5 oz (141.7 g) with batteries
Battery: 2 AA batteries (not included); NiMH or Lithium recommended
Battery life: 25 hours
Water rating: IPX7
Memory/History: 8GB
High-sensitivity receiver: Yes
Interface: USB
Garmin inReach Mini - Orange
010-01879-00
Regular price
$599.99
Save $-599.99
/
---
LIGHTWEIGHT AND COMPACT SATELLITE COMMUNICATOR
FIT GLOBAL CONNECTIVITY INTO YOUR PALM
inReach Mini is your go-to connection for maintaining off-the-grid contact. It's our palm-sized satellite communicator for adventures where size and weight matter.
The 100% global Iridium® network keeps you connected when mobile phones can't.
In an emergency, it's reassuring to communicate with someone trained to help.
You can still connect to the ones who matter, even out in the remote parts of the world.
Get connectivity and peace of mind on your other Garmin devices.
Open up inReach and your phone to new capabilities by using the Earthmate® app.
Get weather updates delivered to the palm of your hand.
Garmin Gps Map 66I Inreach
010-02088-03
Regular price
$849.99
Save $-849.99
/
---
Rugged GPS Handheld and Satellite Communicator with Garmin TOPO Mapping
Large 3 sunlight-readable color display for easy viewing

Trigger an interactive SOS to the GEOS 24/7 search and rescue monitoring center; two-way messaging via the 100% global Iridium satellite network (satellite subscription required)

Preloaded Garmin TopoActive mapping for North and Central America with direct-to-device BirdsEye Satellite Imagery downloads (no annual subscription); includes multiple Global Navigation Satellite Systems (GNSS) support and navigation sensors

Cellular connectivity lets you access Active Weather forecasts and Geocaching Live

Compatible with the Garmin Explore website and app to help you manage waypoints, routes, activities and collections, use tracks and review trip data from the field

Internal, rechargeable lithium battery provides up to 35 hours of battery life in 10-minute tracking mode; 200 hours in Expedition mode with 30-minute tracking intervals
Precise Garmin navigation meets global communication in the GPSMAP 66i premium GPS handheld with inReach satellite technology.
Built for Tough Treks
The sturdy, button-operated GPSMAP 66i features a large 3 color display you can see even in bright sunlight. If you're out in the field for long stretches of time, you can turn on Expedition mode and get up to 200 hours of battery life while using inReach technology. In the default tracking mode, you get up to 35 hours of battery life, and your device will save your location every 10 minutes. 
Satellite Communication
Staying in touch is vital, even on less challenging trips. Using inReach technology (subscription required), this handheld lets you trigger an SOS to the GEOS 24/7 emergency response team for interactive support in an emergency. It also enables two-way messaging and LiveTrack location sharing via the 100% global Iridium satellite network, so you can stay in contact with loved ones, teammates, headquarters and more.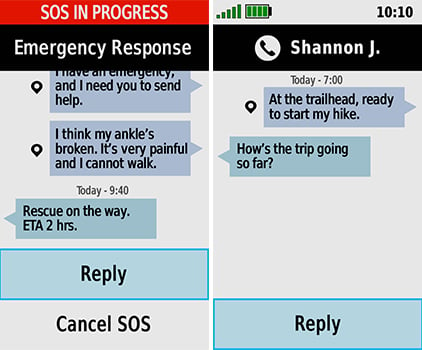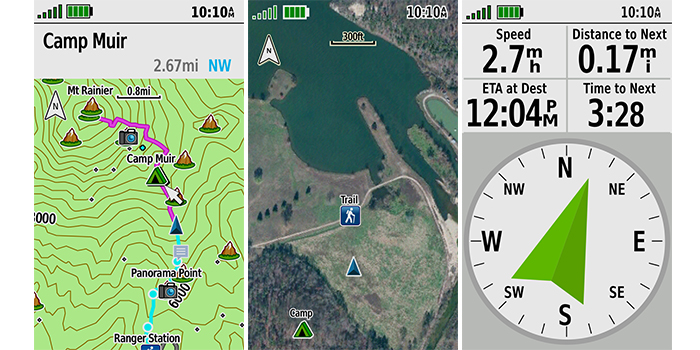 Navigate with Confidence
GPSMAP 66i is fitted with the best in Garmin navigation. Preloaded Garmin TopoActive mapping for North and Central America provides detailed views of terrain contours, topographic elevations, summits, parks, coastlines, rivers, lakes and geographical points. Direct-to-device downloads of BirdsEye Satellite Imagery provide high-resolution photo-realistic views of your route, trailheads, clearings and more without an annual subscription. Support for multi-GNSS combined with altimeter, barometer and compass navigation sensors lets you track and navigate in challenging environments. 
Weather Anywhere
Wireless Cellular connectivity lets you access Active Weather for up-to-date forecasts, including predictive maps for temperature, wind, precipitation and clouds right on the handheld when connected to Garmin Connect Mobile.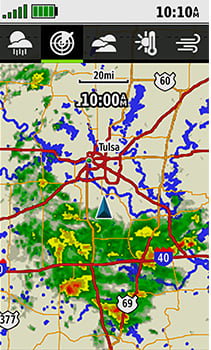 Pair with Your Mobile Device
The free Garmin Explore mobile app lets you plan, review and sync data, including waypoints, routes, activities and collections. Review completed activities while still in the field, even when you're off the grid. The app also lets you sync your GPSMAP 66i with your compatible mobile device so you can access unlimited maps, aerial imagery and U.S. NOAA charts. You can even use all of the inReach features on your paired mobile device. For easier messaging, you can access your phone's contact list from the Garmin Explore app to connect with fewer keystrokes. Plan for future trips and review previous activities from the Garmin Explore website.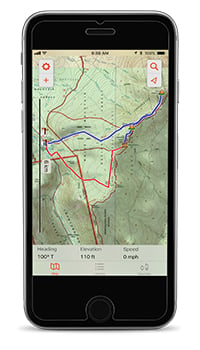 Garmin Etrex 10 Hand Held Gps
010-00970-00
Regular price
$179.99
Save $-179.99
/
---
eTrex 10 has an enhanced 2.2 in monochrome display that's easy to read in any lighting situation. Its easy-to-use interface means you'll spend more time enjoying the outdoors and less time searching for information. Both durable and waterproof, eTrex 10 features the legendary toughness that's built to withstand the elements – be it dust, dirt, humidity or water, none of which are a match for this legendary navigator.
Features:
Worldwide basemap
2.2" monochrome display, easy to read in any light
GPS and GLONASS satellites for faster positioning
Paperless geocaching
25-hour battery life with 2 AA batteries
Find Fun
eTrex 10 features paperless geocaching by supporting GPX files for downloading geocaches and details straight to your unit. Visit OpenCaching.com to start your geocaching adventure. By going paperless, you're not only helping the environment but also making your geocaching more fun. eTrex 10 stores and displays all the information you need, including location, terrain, difficulty, hints and descriptions, which means no more manually entering coordinates and paper print outs. Simply upload the geocache to your unit and start hunting for caches.
Keep Your Fix
With its high-sensitivity, EGNOS-enabled GPS receiver and HotFix® satellite prediction, eTrex 10 locates your position quickly and precisely and maintains its GPS location even in heavy cover and deep canyons. The advantage is clear — whether you're in deep woods or just near tall buildings and trees, you can count on eTrex 10 to help you find your way when you need it the most.
Go Global
The new eTrex series is the first-ever consumer-grade receivers that can track both GPS and GLONASS satellites simultaneously. GLONASS is a system developed by the Russian Federation that will be fully operational in 2012. When using GLONASS satellites, the time it takes for the receiver to "lock on" to a position is (on average) approximately 20 percent faster than using GPS. And when using both GPS and GLONASS, the receiver has the ability to lock on to 24 more satellites than using GPS alone.
Specifications:
Unit dimensions: xHxD: 2.1" x 4.0" x 1.3" (5.4 x 10.3 x 3.3 cm)
Display size: xH: 1.4" x 1.7" (3.6 x 4.3 cm); 2.2" diag (5.6 cm)
Display resolution: WxH: 128 x 160 pixels
Display type: transflective, monochrome
Weight: 5 oz (141.7 g) with batteries
Battery: 2 AA batteries (not included); NiMH or Lithium recommended
Battery life: 25 hours
Waterproof: yes (IPX7)
Floats: no
High-sensitivity receiver: yes
Interface: USB
Maps & Memory:
Basemap: yes
Preloaded maps: no
Ability to add maps: no
Built-in memory: no
Accepts data cards: no
Waypoints/favorites/locations: 1000
Routes: 50
Track log: 10,000 points, 100 saved tracks
Features & Benefits:
Automatic routing (turn by turn routing on roads): no
Electronic compass: no
Touchscreen: no
Barometric altimeter: no
Camera: no
Geocaching-friendly: yes (paperless)
Custom maps compatible: no
Photo navigation (navigate to geotagged photos): no
Outdoor GPS games: no
Hunt/fish calendar: yes
Sun and moon information: yes
Tide tables: yes
Area calculation: yes
Custom POIs (ability to add additional points of interest): yes
Unit-to-unit transfer (shares data wirelessly with similar units): no
Picture viewer: no
Garmin ConnectTM compatible (online community where you analyze, categorize and share data): yes
ACR ResQLink 406 MHZ GPS Buoyant PLB-400
BERL2921
Regular price
$499.99
Save $-499.99
/
---
Includes FREE carry case - while stocks last! 
Small but resilient, the ResQLink 400 has been professionally engineered and tested to ensure it can withstand even the harshest elements. This buoyant Personal Locator Beacon requires no subscription for use and can be utilized to enhance your safety in a wide variety of environments. Whether on land, at sea, or in the air, trust that the ResQLink's satellite precision and military durability, puts rescue in the palm of your hands.
Features and Benefits: 
No Subscription Required
GPS and Galileo GNSS
Built-In Buoyancy
Strobe and Infrared Strobe
Global Coverage
MEOSAR Compatible
Small and lightweight
5 year battery life
24+ hours Operational Life**
Multi-function Clip System Included
**Based on test report from accredited laboratory
With three levels of integrated signal technology '" GPS positioning, a powerful 406 MHz signal, and 121.5 MHz homing capability '" the ResQLink 400 quickly and accurately relays your position to a worldwide network of search and rescue satellites. Additionally, a built-in strobe and infrared strobe facilitate nighttime, or other low visibility rescues.
Wherever your adventure takes you, whether it's a trip to the highest mountain peaks, the most undiscovered terrain, or the vastest of oceans, rest assured that the ResQLink 400 always activates easily. Simply deploy the antenna, press the ON button, and the beacon will do the rest for you by effortlessly guiding rescuers to within 100 meters or less of your position.
Due to innovative design elements, multi-function clips can be used in conjunction with the beacon, providing numerous wear-ability options that address a variety of usage applications. The increased ease of incorporating the ResQLink 400 on your person, or with your gear, just made all your adventures not just safer, but more convenient too.  
As a leader in life-saving products for both professional and recreational use, ACR provides unparalleled safety and peace of mind with the ResQLink 400 Personal Locator Beacon.