9 products
Garmin 65S Handheld GPS
010-02451-12
Regular price
$799.99
Save $-799.99
/
---
FIND YOUR WAY IN THIS BIG, WIDE WORLD
Explore more with this rugged handheld that offers optimal tracking accuracy, a 2.6-inch colour display and preloaded maps. Don?t miss a detail with this large, sunlight-readable colour display. Lead the way in challenging locations with multi-band technology and expanded GNSS satellite support. Cross the countryside with routable TopoActive maps. Plot your next move with built-in navigation sensors. Organise your adventure from anywhere with the Garmin Explore? website and app. Travel with up to 16 hours of battery life in GPS mode.
EXPANDED GNSS SUPPORT
Multi-band technology and expanded GNSS support (GPS, GLONASS, Galileo, QZSS and IRNSS) provide optimal accuracy in steep country, urban canyons and forests with dense trees.
ABC SENSORS
Navigate every trail with ABC sensors, including an altimeter for elevation data, barometer to monitor weather and 3-axis electronic compass.
PRELOADED TOPOACTIVE MAPS
Preloaded TopoActive maps provide detailed views of routable street and off-road networks, waterways, natural features, land use areas, buildings and more.
GEOCACHING
Get automatic cache updates from Geocaching Live, including descriptions, logs and hints.
SMART NOTIFICATIONS
Receive emails, texts and alerts right on your handheld when paired with your compatible device.
GARMIN EXPLORE APP
Plan, review and sync waypoints, routes and tracks by using the Garmin Explore app and website. You can even review completed activities while still in the field.
MICROUSD? SLOT
Using your compatible device and microSD memory card, conveniently download TOPO 24K maps and hit the trail, or access HuntView Plus maps to see public land types and boundaries as well as private landowner names and boundaries.
Garmin Gps Map 66I Inreach
010-02088-03
Regular price
$849.99
Save $-849.99
/
---
Rugged GPS Handheld and Satellite Communicator with Garmin TOPO Mapping
Large 3 sunlight-readable color display for easy viewing

Trigger an interactive SOS to the GEOS 24/7 search and rescue monitoring center; two-way messaging via the 100% global Iridium satellite network (satellite subscription required)

Preloaded Garmin TopoActive mapping for North and Central America with direct-to-device BirdsEye Satellite Imagery downloads (no annual subscription); includes multiple Global Navigation Satellite Systems (GNSS) support and navigation sensors

Cellular connectivity lets you access Active Weather forecasts and Geocaching Live

Compatible with the Garmin Explore website and app to help you manage waypoints, routes, activities and collections, use tracks and review trip data from the field

Internal, rechargeable lithium battery provides up to 35 hours of battery life in 10-minute tracking mode; 200 hours in Expedition mode with 30-minute tracking intervals
Precise Garmin navigation meets global communication in the GPSMAP 66i premium GPS handheld with inReach satellite technology.
Built for Tough Treks
The sturdy, button-operated GPSMAP 66i features a large 3 color display you can see even in bright sunlight. If you're out in the field for long stretches of time, you can turn on Expedition mode and get up to 200 hours of battery life while using inReach technology. In the default tracking mode, you get up to 35 hours of battery life, and your device will save your location every 10 minutes. 
Satellite Communication
Staying in touch is vital, even on less challenging trips. Using inReach technology (subscription required), this handheld lets you trigger an SOS to the GEOS 24/7 emergency response team for interactive support in an emergency. It also enables two-way messaging and LiveTrack location sharing via the 100% global Iridium satellite network, so you can stay in contact with loved ones, teammates, headquarters and more.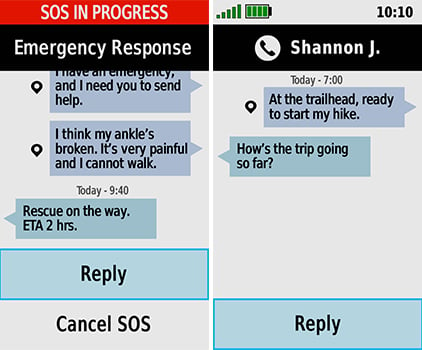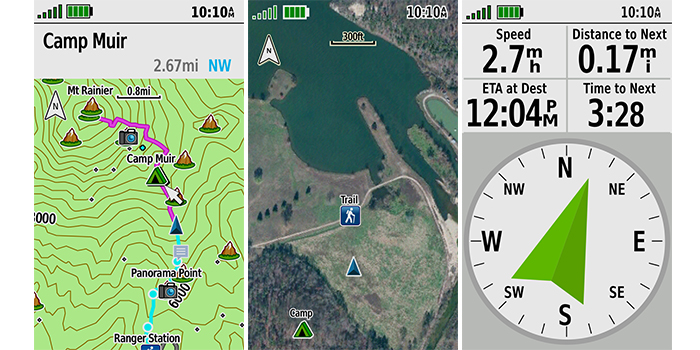 Navigate with Confidence
GPSMAP 66i is fitted with the best in Garmin navigation. Preloaded Garmin TopoActive mapping for North and Central America provides detailed views of terrain contours, topographic elevations, summits, parks, coastlines, rivers, lakes and geographical points. Direct-to-device downloads of BirdsEye Satellite Imagery provide high-resolution photo-realistic views of your route, trailheads, clearings and more without an annual subscription. Support for multi-GNSS combined with altimeter, barometer and compass navigation sensors lets you track and navigate in challenging environments. 
Weather Anywhere
Wireless Cellular connectivity lets you access Active Weather for up-to-date forecasts, including predictive maps for temperature, wind, precipitation and clouds right on the handheld when connected to Garmin Connect Mobile.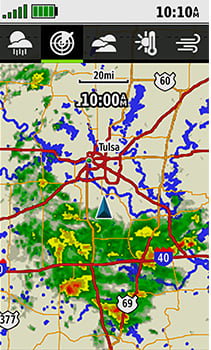 Pair with Your Mobile Device
The free Garmin Explore mobile app lets you plan, review and sync data, including waypoints, routes, activities and collections. Review completed activities while still in the field, even when you're off the grid. The app also lets you sync your GPSMAP 66i with your compatible mobile device so you can access unlimited maps, aerial imagery and U.S. NOAA charts. You can even use all of the inReach features on your paired mobile device. For easier messaging, you can access your phone's contact list from the Garmin Explore app to connect with fewer keystrokes. Plan for future trips and review previous activities from the Garmin Explore website.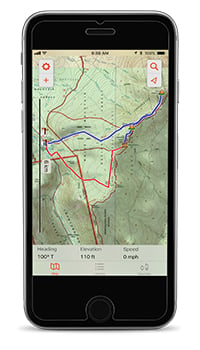 Garmin Australia & NEW ZEALAND TOPO SD CARD
010-C1049-00
Regular price
$229.99
Save $-229.99
/
---
Get enhanced topographic detail on your compatible device whether you're in the outback or on a main boulevard in the city. This map provides a wide array of topographic information from terrain contours, elevations and summits to coverage of perennial and intermittent lakes, rivers and streams in Australia and New Zealand.
Provides terrain contours and summit points at 10 m intervals for a more detailed view of the terrain
Contains more than 105,000 km of tracks, roads and outback trails; also displays 4WD destinations and hydrographic features: lake/river shorelines and perennial and seasonal streams
Includes built-in DEM data with 3-D shading and route elevation profiles on compatible devices so you can estimate terrain difficulty
Offers updated and new searchable points of interest in urban, rural and outback areas, including lodging, restaurants, homesteads, parks, shopping and more than 4,000 camping locations
Ocean Signal Rescueme PLB1 incl Floatation Pouch
730S-04077
Regular price
$539.99
Save $-539.99
/
---
PLBs are small portable beacons typically carried by trampers, climbers, hunters and people working in remote areas. A lot of people use PLBs on small boats and for other water-based activities, but most do not float and may not be fully waterproof. Their aerials are often not designed for use in the water. Once activated, PLBs usually have a shorter battery life than EPIRBs.
Ocean Signal Rescueme PLB1 Features:
30% smaller (typ) by volume
Easily fits in lifejacket
Retractable antenna
7 Year battery life (from date of manufacture)
5 year warranty?
24+ hour operational life
High brightness strobe light >1candela
66 channel GPS receiver
Unique mounting clip
Operates on the global Cospas Sarsat rescue system
Free to use, no subscription charges
Supplied with free flotation pouch
Beacons
Beacons (also known as distress or emergency beacons) are the most effective way of letting people know that you need urgent help and where to find you.
There are different beacon types designed for use in different environments.
- The Personal Locator (PLB) beacon is designed to be carried on the person and can be used in marine and land-based activities.
- The EPIRB (emergency position-indicating radio beacon) is the best type for use on boats and other activities on water.
Why carry a beacon?
- Due to New Zealand's rugged landscape and changeable weather, you can get into trouble very quickly.
- Radios, GPS tracking systems, distress flares, whistles, lights and mobile phones may be useful as a back-up, however, none are as effective as a distress beacon when you need help in an emergency.
- Distress beacons are one of the most reliable ways of signalling that you need help.
Choose the right beacon
Although they all work in the same way, different beacons are designed for use in different environments.
There are three types of beacons:
- EPIRBs (emergency position-indicating radio beacon) are best for boats, ships and other activities on water
- PLBs (personal locator beacon) are for those tramping, climbing, hunting and travelling to remote locations
- ELTs (emergency locator transmitter) are best for aircraft
Get a beacon?
Register your beacon
- It's free and easy
- Registration of your distress beacon is FREE and only takes a couple of minutes. Registrations can be can be submitted online, emailed or downloaded and sent through post. 
It could save your life
- Ensuring your beacon is registered with the Rescue Coordination Centre New Zealand (RCCNZ) is vital - a registered beacon means a quicker, more targeted response can be launched.
- RCCNZ may also be able to find out exactly who is with you, how long you have been gone, and whether anyone has any medical conditions. Rescuers will then be in the best position to help you when you are located.
 Get familiar with your beacon before you head out!
- moving your beacon - always make sure that it is in "safe" or "off" mode.
- Read the instruction manual and understand how to operate your beacon
- Check the expiry date for the battery, which is shown on the beacon label -Batteries should be replaced by your supplier or agent
- Make sure your beacon is registered and that your details are kept up to date
- Make sure it's easily accessible


Silva Field Compass 36989-9005Ms
SCFIELD
Regular price
$39.99
Save $-39.99
/
---
Probably the world's best selling compass. Fantastically simple to use and a perfect compass for land navigation. Soft, easy-grip compass housing in Dryflex?. Map measuring scales in millimetres, 1:50.000 and 1:25.000.
Features
Sapphire jewel bearing for friction free movement of the compass needle
Durable hot-stamping of scales/graduations
Compass housing made from
Dryflex? Rounded base plate
Patented red/black orienting lines inside the compass housing
Map measuring scales: mm, 1:50k and 1:25k
Declination scale inside the capsule
Garmin Etrex 32X Handheld GPS With Nz Topo Active Maps
010-02257-02
Regular price
$499.99
Save $-499.99
/
---
Garmin Etrex 32X Handheld GPS With Nz Topo Active Maps
eTrex 32x Rugged Handheld GPS with Compass and Barometric Altimeter!

Explore Confidently with the Reliable Handheld GPS

2.2" sunlight-readable color display with 240 x 320 display pixels for improved readability
Preloaded with TopoActive maps with routable roads and trails for cycling and hiking
Support for GPS and GLONASS satellite systems allows for tracking in more challenging environments than GPS alone
8 GB of internal memory for map downloads plus a microSD card slot
eTrex 32x adds a 3-axis compass and barometric altimeter
Battery life: up to 25 hours in GPS mode with 2 AA batteries

Garmin Etrex 32X Handheld GPS With Nz Topo Active Maps Specifications:


Physical dimensions: 2.1" x 4.0" x 1.3" (5.4 x 10.3 x 3.3 cm)
Display size: 1.4" x 1.7" (3.5 x 4.4 cm); 2.2" diag (5.6 cm)
Display resolution: 240 x 320 pixels
Display type: 2.2" transflective 65K color TFT
Weight: 5 oz (141.7 g) with batteries
Battery: 2 AA batteries (not included); NiMH or Lithium recommended
Battery life: 25 hours
Water rating: IPX7
Memory/History: 8GB
High-sensitivity receiver: Yes
Interface: USB
ACR ResQLink 406 MHZ GPS Buoyant PLB-400
BERL2921
Regular price
$519.99
Save $-519.99
/
---
ACR ResQLink 406 MHZ GPS Buoyant PLB-400
Small but resilient, the ResQLink 400 has been professionally engineered and tested to ensure it can withstand even the harshest elements. This buoyant Personal Locator Beacon requires no subscription for use and can be utilized to enhance your safety in a wide variety of environments. Whether on land, at sea, or in the air, trust that the ResQLink's satellite precision and military durability, puts rescue in the palm of your hands.
With three levels of integrated signal technology - GPS positioning, a powerful 406 MHz signal, and 121.5 MHz homing capability - the ResQLink 400 quickly and accurately relays your position to a worldwide network of search and rescue satellites. Additionally, a built-in strobe and infrared strobe facilitate night-time, or other low visibility rescues.
Wherever your adventure takes you, whether it's a trip to the highest mountain peaks, the most undiscovered terrain, or the vastest of oceans, rest assured that the ResQLink 400 always activates easily. Simply deploy the antenna, press the ON button, and the beacon will do the rest for you by effortlessly guiding rescuers to within 100 meters or less of your position.
Due to innovative design elements, multi-function clips can be used in conjunction with the beacon, providing numerous wear-ability options that address a variety of usage applications. The increased ease of incorporating the ResQLink 400 on your person, or with your gear, just made all your adventures not just safer, but more convenient too.  
As a leader in life-saving products for both professional and recreational use, ACR provides unparalleled safety and peace of mind with the ResQLink 400 Personal Locator Beacon.
ACR ResQLink 406 MHZ GPS Buoyant PLB-400 Features:
No Subscription Required
GPS and Galileo GNSS
Built-In Buoyancy
Strobe and Infrared Strobe
Global Coverage
MEOSAR Compatible
Small and lightweight
5 year battery life
24+ hours Operational Life**
Multi-function Clip System Included